Driving awareness and capturing interest in a client's product or service.
Powered By Foster Campaign
With a range of work-compatible MBA programs for working professionals under one umbrella, the UW Foster School of Business was challenged to communicate their breadth of options to prospects in a clear, cohesive way. We developed an integrated campaign showcasing Foster graduates from the work-compatible programs who were thriving in their respective disciplines. Our creative executions were utilized across email, billboards, bus advertising, digital ads, print ads and posters—all leading back to a central landing page with more information on each program.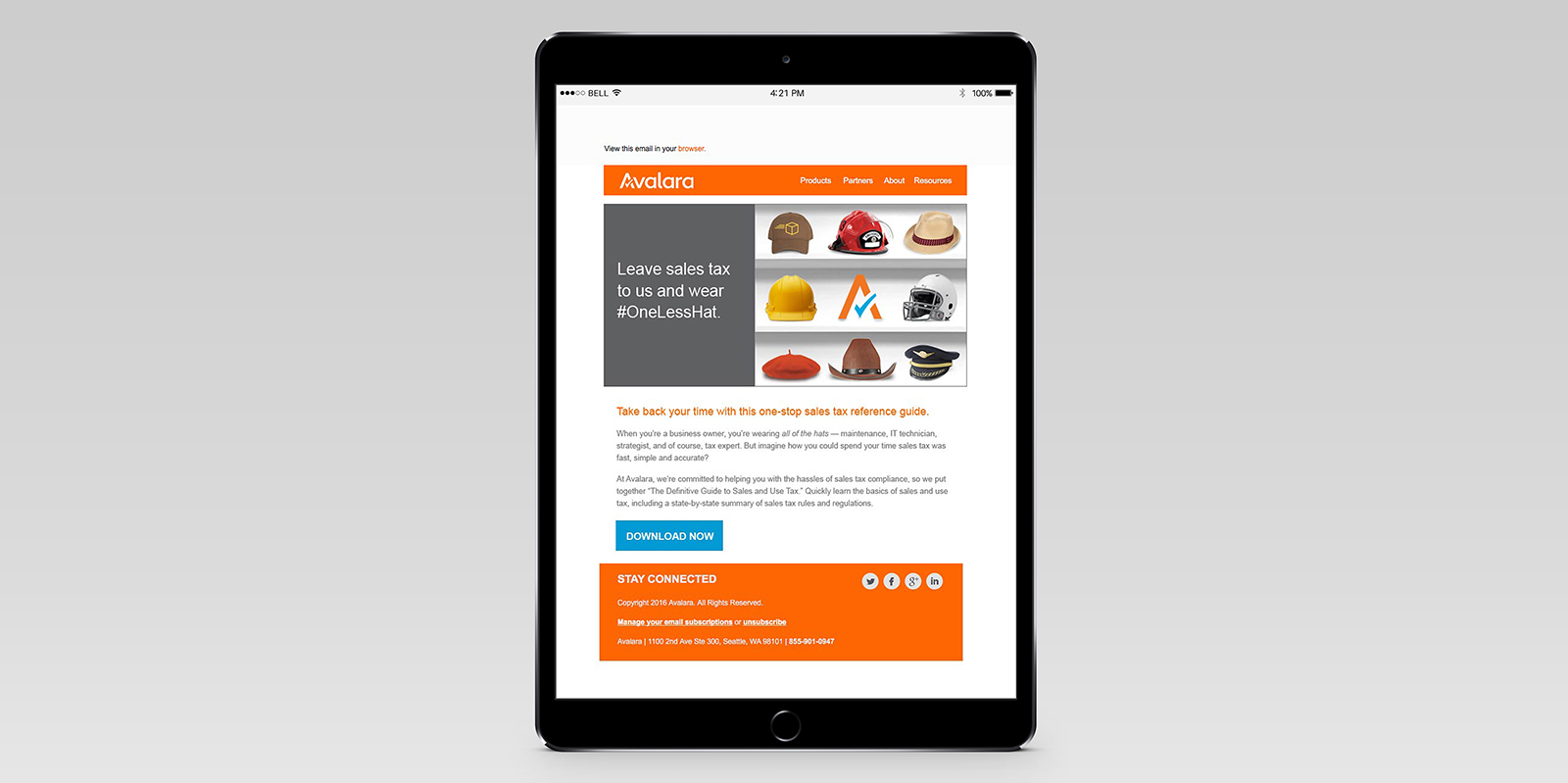 Avalara "One Less Hat" Campaign
Sales tax is complicated – especially for the "mom and pop" small office and home office businesses who already have to wear multiple hats. Our campaign played off this pain point and invited prospects to wear "One Less Hat" by automating and simplifying sales tax management with Avalara. We developed multiple executions underneath the "One Less Hat" theme, each relating to a different pain point or challenge.
Inspirato Launch Campaign
Inspirato is a private vacation club for travelers who enjoy five-star service and privileged access to luxurious villas in some of the world's most sought-after destinations. We were engaged to help them launch their club. We built their DM acquisition program from the ground up, employing best practices in list rental, audience segmentation, and creative and offer testing. With little brand awareness in the market, we successfully launched the brand, testing multiple creative formats and list sources while doubling the marketing investment.
Accolade Open Enrollment DM
Accolade combines technology with one-on-one service to revolutionize healthcare engagement. We were engaged to develop a Conversation Starter DM targeting benefits managers during their busiest time of year—open enrollment. Knowing that their days (and nights) were hectic, we developed a concept that kept the message quick and simple: while they were busy looking out for their employees, Accolade was looking out for them with a week of free meals from Blue Apron. The results were more than our client expected: 48 total responses and 30 meetings booked out of just 211 mailings.
Pyramid Analytics Lead Generation
With disjointed and siloed marketing efforts, Pyramid Analytics was not meeting their aggressive MQL and sales goals. We recommended a demand generation program that delivered leads at various stages of the funnel, working closely with sales to ensure appropriate follow-up. We were able to raise lead delivery quarter over quarter and increase MQLs with an 18% conversion rate.